My name is Jelena, and I'm a new author on the "LVR" series of blogs. You can find my author page here. As you can see from my list of pets — one dog, one cat, twelve rats, a hedgehog, a turtle, and a horse — I have a house full of critters! I'm a behavior nerd and love to teach new things to my pets using clicker training and other positive reinforcement methods. Here on PetLvr, I'll be blogging about behavior and training, as well as pet nutrition, and sometimes other related topics.
Allow me to introduce some of my pets in a little more detail.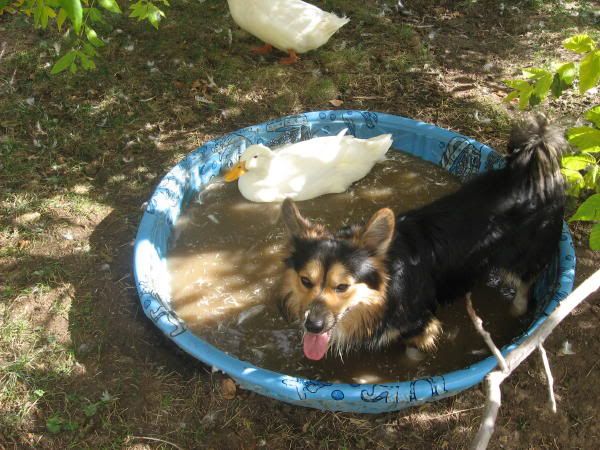 The handsome fellow in the wading pool is Augustin, my Pembroke Welsh Corgi/Border Collie mix. He'll be two this July 24th, and we're looking forward to starting flyball classes together soon. Augustin loves to fetch, play at the dog park, and run alongside my bicycle. He's transitioning from a grain-free super-premium kibble to a raw foods diet, and we're having a great time learning about all the different things that go into a balanced whole-prey-model raw feeding plan.
Next to Augustin is Triscuit Quacker (Trixie for short). In the background is her mate, Ritz Quacker. Ritz and Trixie belong to my mother. I'm lucky enough to live close to my family, and Augustin and I visit my parents, Ritz, Trixie, and their dog, Steiner, and cat, Vivi, every weekend. The dogs love to play together and walk across miles of Open Space trails!
Staking his claim to my laundry hamper is my cat, Monster. Monster came to me as a tiny four-week-old foster kitten, orphaned in a crowded municipal shelter at only three weeks of age. She, her brother Mint, and her sister, General Mao, were tiny enough to fit in the palm of one hand and were very sick. They received a misdiagnosis and it took some research, a second opinion, and a very simple treatment to bring them around.
Sadly, of a litter of nine, only three kittens survived. General Mao and Monster are alive and well today, but Mint passed to the Rainbow Bridge after only one day in my care. The other six kittens were fostered in another home, and of those six, only one lived to be adopted into a forever home. As you can tell, Monster didn't stay a foster kitten. She's mine forever now, and General Mao is in a loving home with a member of my family. I couldn't give either of them up to strangers after such an ordeal! I'll tell you the whole story soon, and all about why a responsible pet owner should always be willing to question the vet.
Shown with me here is Embrace Reality, my rescued Thoroughbred horse. A larger version of this photo by Lisa Duskis is shown on my author page.
Embrace Reality, who is now nicknamed "Ember," came to me through a series of happy coincidences. I first saw his photo on an online forum, as part of a plea to save two Thoroughbreds likely to be sold to slaughter in a matter of days. He was in Pennsylvania, I was in Colorado, and all I had to help me make my decision were a photograph, a pedigree, and the word of two strangers who had met him. As a horsewoman, I knew better than to buy a horse under such conditions, but my heart overruled my brain, and home Ember came. I'll tell his whole story, complete with photos of the surgery he needed 10 days after he came home to Colorado, on my blog here.
It's been a wild ride (pardon the pun) but the bond I share with Ember today is worth every penny spent on vet bills and every hour spent slowly retraining and befriending a horse who had been through many traumas in a short time. You can see from the photograph that he and I are very close. It's been over two years since Ember first arrived in Colorado, and this summer and fall I'm hoping finally to ramp up his training and begin participating in Hunter/Jumper competitions. But don't worry; we've taken our time thus far, and if he's not ready, I wouldn't dream of rushing him. Ember and I take his journey toward a new career as a sporthorse one step at a time.
I'll introduce my smaller pets soon. For now, I'm looking forward to getting to know PetLvr's readers and my fellow authors here, and excited about sharing my knowledge and learning from others!
Please follow and like us: